7th April 2019
What is so great about Jersey?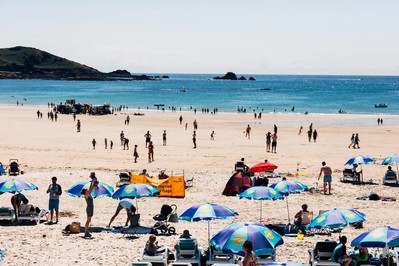 People ask me often why I love Jersey so much, so wanted to explain.
I first discovered Jersey through my role as a travel agent with a small independent local business. I was working on a group enquiry to Jersey, and built good relationships with the Groups Department of Preston Holidays. It was through this that I was asked to attend an interview, to join the Reservations Department.
I was taken on a Reservations Consultant, and this began my love affair with the Island. I quickly learnt about all the wonderful things that can be found in Jersey, and enjoyed passing on my experience and knowledge to both the travel industry and direct clients alike.
It was through this role that I met my wife, we were engaged overlooking the harbour in St Helier, and honeymooned in Jersey, so many significant life achievements were had on the Island.
Why did i fall in love with the place? So many different reasons, and separately may not seem unique, but all put together on an island that is only 9 miles x 5 miles, makes it my most favourite place on earth,
The beaches are incredibly safe, and even in the height of summer, there is plenty of space to relax, spread out and enjoy the weather. The waters around Jersey are ideal for watersports, and you can rent canoes or kayaks, and go off in a group to see the island from a different angle. If you are feeling a little more adventurous, then you can surf in some of the best waves in Europe.
If history is more your thing, then there is castles built in 1500s and 1600s to protect the Islands. A visit to Elizabeth Castle, which is protecting the main port of St Helier, is a must, and can be reached on foot in low tide. If you are more into modern history, the history regarding the Occupation by Germany during World War 2 is something that needs to be seen to be believed. The stunning but heart-breaking story is brilliantly told in Jersey War Tunnels which makes you think what the island went through.
A visit to Jersey Zoo (owned and run by Durrell Wildlife Conservation Trust) is a must. The Zoo is world renowned for saving species from extinction, and is a great way to spend a day, safe in the knowledge that the entrance fee will go towards helping the trust continue its amazing work.
St Helier is a bustling town, with all the shops you would expect from a main shopping area. Alongside this is the many food and drink establishments, with some of the best seafood options you will ever come across.
There are plenty of things for kids to do. They can bowl, watch films, play minigolf, escape a maize and also see dinosaurs, swim, build sand castles and mess around in playgrounds. They will be shattered at the end of each day.
With all this going on, there is no other place on earth I would rather be. My children also share our feelings, and they always say how safe they feel, even walking around a night.
You will find so much to do, and our aim at Go-Jersey is that we give more people the opportunity to discover the Island at a cost that does not break the bank.
I challenge you to visit Jersey and NOT fall in love with it.